Your brand holds the secret to success.
Here's how to unleash its power.
Tactus helps leaders unlock the power of corporate brands to deliver business results in times of transition and change. Brands are about more than logos and slogans. Our team of professionals employs them as a strategic framework to tackle four issues critical to business success:
We work with organizations in the process of change…
Tactus works with companies (mostly B2B) that are in transition or coping with major change in circumstances or business environment. Many of our clients are:
Launching a new business or an extension of a current business

Transitioning to the next level of growth

In need of a re-set (due to new competition, market demand, technology)

Preparing for sale or succession

Integrating post-M&A
Tactus works with executive leaders and business owners who need an expert perspective on positioning, strategy, brand or communications. We provide these leaders with confidential advice and assistance on: 
Brand strategy and architecture

Strategy implementation

Internal engagement 

Proposals and presentations

Marketing and strategic messaging
…and with the people who make change happen.
You didn't invest in your brand so that it could sit there looking pretty.
Let us put your brand to work.
SERVICES
We tailor our work for each client's needs.
Decide what level of engagement suits your requirements.
OUR EXPERIENCE
We've worked with some of the world's greatest brands.
● 20th Century Fox
● Air Pacific
● AIU
● A-Look
● AQuest
● Aussie Beef
● BMW
● Brioni
● Brooks Brothers
● Canon
● Credit Suisse
● DeLonghi
● Ducati
● en world
● Fiat
● FocusCore
● Guerlain
● Hertz
● Hino
● Imperial Hotel
● Kenzo
● Land Rover
● Lexus
● LRQA
● Michelin
● MINI
● Neways
● Nike
● Nordica
● Pirelli
● Poloroid
● Qantas
● Quiksilver/Roxy
● Reccelerate
● Red Bull
● RJ Reynolds
● Rolls-Royce
● Samsonite
● San Miguel
● Shiseido
● Sopexa
● Superba Krill
● Takimotokan
● TripAdvisor
● Valentino
● Volkswagen
● Volvo
● YSL
THINKBANK
Information, advice and food for thought.
Putting your brand
to work:

Here's how to do it
Download our simple guide to Brand Tactivation, our exclusive process for activating corporate brands throughout the organization.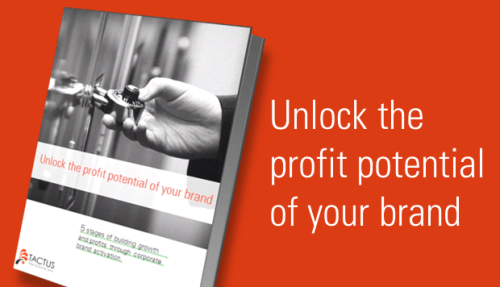 DOWNLOAD
Keep up with what
makes brands tick:

Subscribe to our newsletter
Brand Activation is a monthly collection of thoughts, commentary and useful information about brands and how they can help companies make succeed in times of change. Sign up today. You can unsubscribe any time.
TACTIVATION
Welcome to Tactivation, a blog about brands, what makes them tick, and how to put them to work. Here are some recent posts.